Novice Training Event
Saturday 31st January 2015
Venue: Long Acre Farm, Coity, Bridgend, CF53 6BN
Thank you to all who attended this event. See News Update below.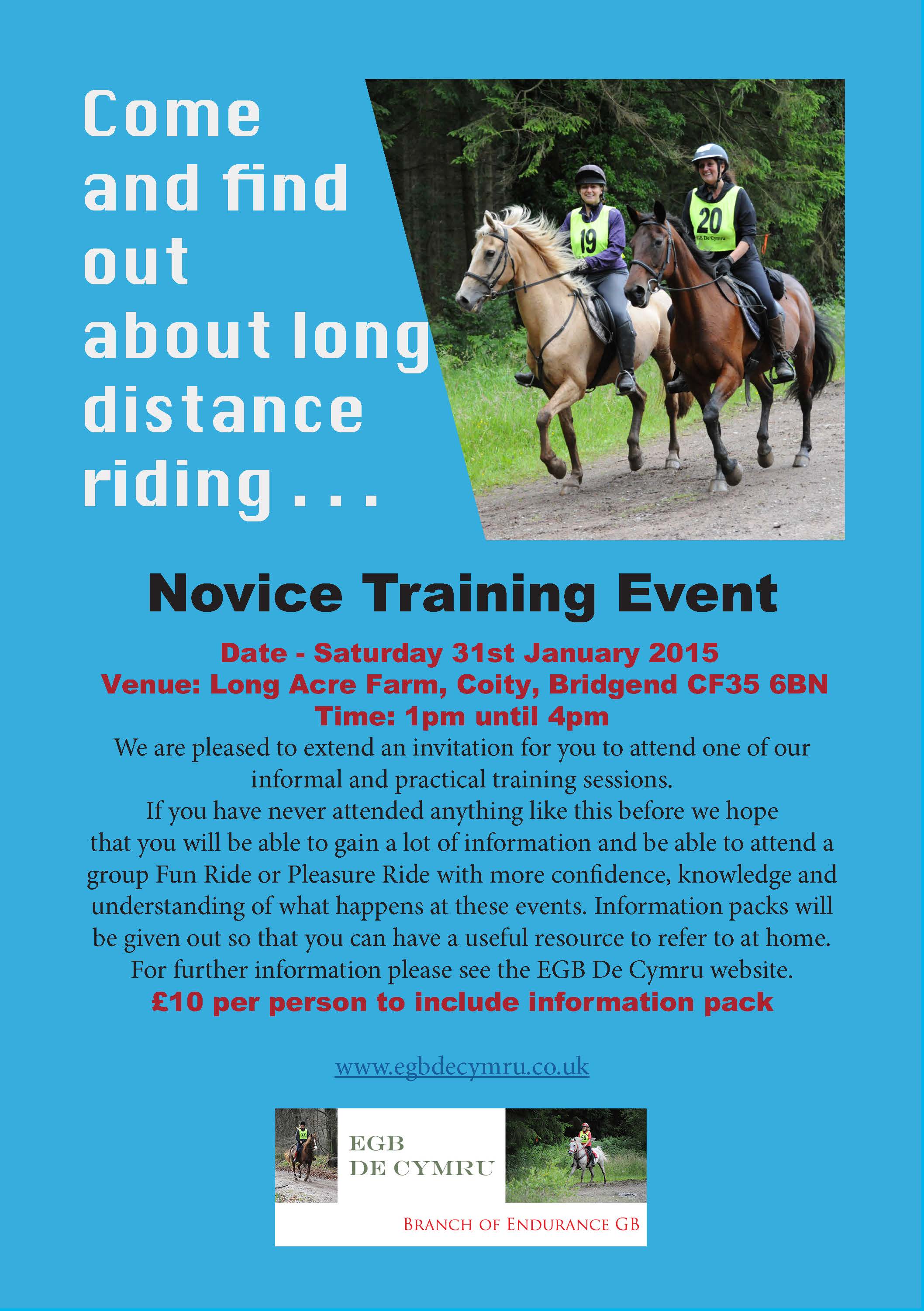 Practical Session
We will have an endurance horse for a practical demonstration of monitoring heart rates and trot ups for vetting which you would experience at a National Ride. You will be able to practice taking heart rates with a stethoscope and have a chance to try a trot up as if you were doing it for a vet at a ride.
We will also have refreshments available.
News Update
1st February 2015
Great thanks to all who attended the Novice Training Event.
June Davies hosted the event at Long Acre Farm where we were able to use a meeting room and were spoilt for choice with an outdoor and an indoor school for our exclusive use. Sue Box brought HS Emerillon and June brought Bryngarn Rosie Ribbon for the participants to try out listening for heart rates and practicing trotting up. I'm sure that they will be looking forward to their very first GER.
Thanks to Deborah Ellson, Rachel Streeter-Roach, Vicky Harrison, Lyndsey Lewis, Nicola Smith, Sue Box, Jenny Myerscough and June Davies for supporting this event. Also it was nice to catch up with Janine Malone who popped in to pick up her awards from our Annual Meeting. Nicola Smith had the bonus of taking home her awards as she was also unable to attend the Annual Meeting.
Celia Saunders.
We are pleased to invite you to attend one of our informal and practical training sessions at a new venue in the Bridgend area. The venue has an indoor school which we will be using for this training session.
If you have never attended anything like this before we hope that you will be able to gain a lot of information and be able to attend a group Fun Ride or GER (Graded Endurance Ride)with more confidence, knowledge and understanding of what happens at these events. We have tried to provide a suitable date at the beginning of the season which will help our new members and people thinking of joining us, to have more choice in rides to attend in our group and neighbouring groups' rides.
1.00pm Welcome, introduction and discussion centred on the information packs.
Information Pack
1. Before Your First Ride
2. Notes on an Endurance GER Ride (GER stands for Graded Endurance Ride)
3. Fittening Notes on preparing your horse for endurance rides.
4. How to work out your times and KPH speed.
5. Chart taken from an Excel document as an example of how you can work out your ride times.
6. Practical Session
7. We will have a number of EGB magazines, Horse registration Log Books and other documents for you to look at but please don't take any magazines home as these are our personal copies.